If you join a Summer Course at Brillantmont you will
improve your French or English in lively, interesting classes
make friends from all over the world
try out new activities and sports in a safe environment
explore amazing Lausanne and Switzerland
have lots of fun and make lasting memories!
Availability

The Summer Course is filling very quickly and some weeks have limited spaces. We also limit the number of students per nationality in order to maintain cultural diversity.
Please take this information into account when making your application.

To apply
complete the Registration Form in the link below.
Brillantmont sends you the Summer Course Medical Form
you complete the Summer Course Medical Form and return it to Brillantmont
when we have received the Medical Form and checked that everything is in order, we will pass information on to our accounts department, who will send you an invoice for the fees
you pay the fees within the deadline indicated on the invoice
on receipt of the fees, we write to you to confirm your place.
Until the Summer Course fees are received, your child's place is not reserved. Please be patient as there is a high volume of demand.

We look forward to seeing you here in the Summer!
Price = CHF 2'500.- per week. For stays of 3 weeks or more, you pay less, so why not stay longer?
2 weeks = CHF 5'000.-
3 weeks = CHF 7'300.– (save CHF 200.-)
4 weeks = CHF 9'500.– (save CHF 500.-)
5 weeks = CHF 11'600.– (save CHF 900.-)
6 weeks = CHF 13'600.- (save CHF 1400.-)
The Summer Course is great value for money. There are no hidden extras! Everything is included in the price.

20 periods of language classes (choice of French or English) per week
the weekly class trip every Wednesday afternoon to visit well-known Swiss attractions
the afternoon programme

all evening activities and weekend excursions
full board and excellent accommodation on the school campus (max= 3 students per room)
all transfers to and from Geneva airport or Lausanne train station (on Saturdays only)
24/7 supervision and care by experienced, qualified staff and our health team
accident and sickness insurance.
* There is a transfer cost for any students who does not arrive or leave on the Saturday and for any student who does not arrive at / leave from Geneva airport.

TERMS AND CONDITIONS

Payment of the Summer Course fees
- On enrolment, you will receive an invoice for the Summer Course fees. These must be paid in full within 30 days. Until we receive payment, your child's place is not guaranteed.
- The invoice for any enrolments after 1st April 2023 must be paid within 10 days.

Cancellation
- before 1st April 2023 = a full refund will be given
- between 1st April and 1st June 2023 = a refund of 50% will be given
- after 1st June 2023 = no refund will be given.
If a participant is expelled or chooses to leave before the end of the camp, no fees are refunded.
Brillantmont reserves the right to:
- modify the programme
- cancel afternoon activity sessions, should there not be enough participants. If that happens, the participants will join the BM Move programme.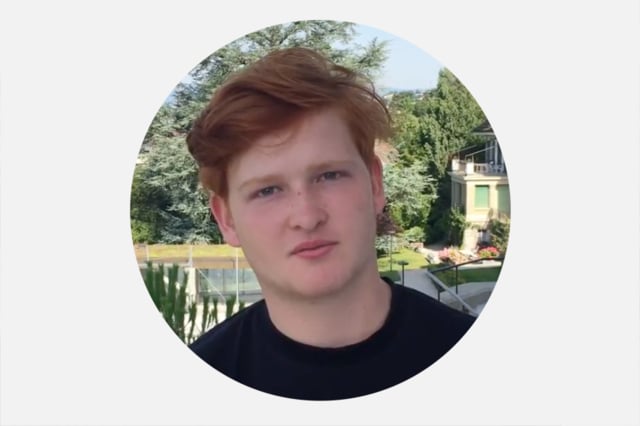 You're making the right decision!
Joshua from Germany came to five Summer Courses at Brillantmont! His three siblings also spent several summers with us, so the Brillantmont Summer Course became something of a family tradition! In this video Joshua reflects on his five BM summers and what he got out of them.
My BM Summer of fun!
Claudia came from Miami to study French at the Summer Course. She had a great time, living in our international summer family and shares her BM summer experience here.