If you join a Summer Course at Brillantmont you will
improve your French or English in lively, interesting classes
make friends from all over the world
try out new activities and sports in a safe environment
explore amazing Lausanne and Switzerland
have lots of fun and make lasting memories!

We are fully booked for Summer Course 2022
Check back again in September to find out about Summer Course 2023!


To apply
complete the Registration Form in the link below
you will receive a message with the Medical Form, which should be completed and sent to us
when we have received the Medical Form and checked that everything is in order, we will pass information on to our accounts department, who will send you an invoice for the fees
you have 10 days in which to pay the fees
on receipt of the fees, we write to you to confirm your place
please be patient as there is a high volume of demand
We look forward to seeing you here in the Summer!
Price = CHF 2'250.- per week. For stays of 3 weeks or more, you pay less, so why not stay longer?

2 weeks=CHF 4'500.-
3 weeks=CHF 6'600.– (save CHF 150.-)
4 weeks=CHF 8'600.– (save CHF 400.-)
5 weeks=CHF 10'500.– (save CHF 750.-)
6 weeks=CHF 12'300.- (save CHF 1200.-)
The Summer Course is great value for money. There are no hidden extras! Everything is included in the price, even the transfer to and from Geneva airport.

20 periods of language classes (choice of French or English) per week
the weekly class trip every Wednesday afternoon to visit well-known Swiss attractions
the afternoon programme – Multisports or Multi-mix
all evening activities and weekend excursions
full board and excellent accommodation on the school campus (max= 3 students per room)
all transfers to and from Geneva airport or Lausanne train station (Saturdays only)
24/7 supervision and care by experienced, qualified staff and our health team
accident and sickness insurance.
Terms and Conditions: Our COVID commitment to you
At all times, Brillantmont will adhere to and strictly follow the recommendations of the Swiss authorities.
Payment of the Summer Course fees
Summer Course is due to start soon, therefore, once we have reviewed the registration form and medical form, we will send you an invoice for the full payment of the fees. This should be paid within 5 days. Until we receive payment, your child's place is not guaranteed.

A full refund is given if, for COVID related reasons:
-government measures in Switzerland mean that your child must undergo quarantine on arrival in Switzerland
-government measures / travel restrictions in Switzerland prevent your child from entering Switzerland
-government measures / travel restrictions in your country prevent your child from leaving home
-your child tests positive or is ill and is unable to join the Summer Course.
You can change your mind until 1st May 2022.
After this date no refund will be given.
If, for whatever reason, Brillantmont is compelled to cancel the Summer Course
-we will give you a full refund
-we will refund the fees paid for the time not yet spent with us, if we have to cancel it while it is running.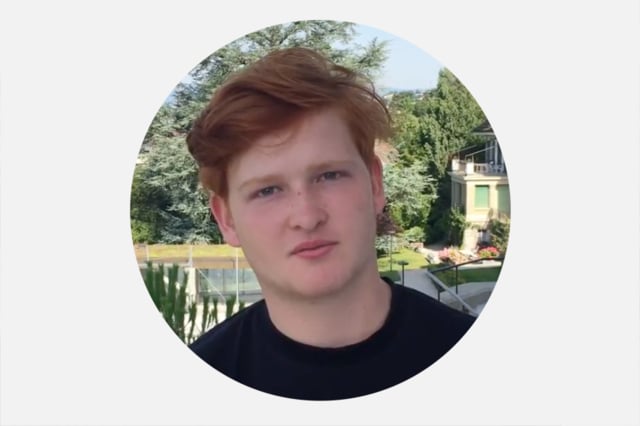 You're making the right decision!
Joshua from Germany came to five Summer Courses at Brillantmont! His three siblings also spent several summers with us, so the Brillantmont Summer Course became something of a family tradition! In this video Joshua reflects on his five BM summers and what he got out of them.
My BM Summer of fun!
Claudia came from Miami to study French at the Summer Course. She had a great time, living in our international summer family and shares her BM summer experience here.